Posts for tag: tooth decay
By Marc Baker, DMD
December 24, 2018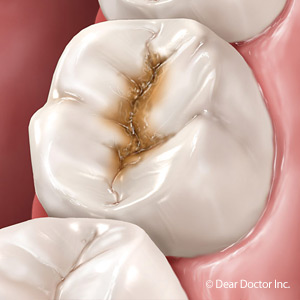 Other than the common cold, tooth decay is the most prevalent disease in the world. And while a cavity or two may seem like a minor matter, tooth decay's full destructive potential is anything but trivial. Without proper prevention and treatment, tooth decay can cause pain, tooth loss and, in rare cases, even death.
This common disease begins with bacteria in the mouth. Though these microscopic organisms' presence is completely normal and at times beneficial, certain strains cause problems: they consume left over carbohydrates in the mouth like sugar and produce acid as a byproduct. The higher the levels of bacteria the higher the amount of acid, which disrupts the mouth's normal neutral pH.
This is a problem because acid is the primary enemy of enamel, the teeth's hard protective outer shell. Acid causes enamel to lose its mineral content (de-mineralization), eventually producing cavities. Saliva neutralizes acid that arises normally after we eat, but if the levels are too high for too long this process can be overwhelmed. The longer the enamel is exposed to acid, the more it softens and dissolves.
While tooth decay is a global epidemic, dental advances of the last century have made it highly preventable. The foundation for prevention is fluoride in toothpaste and effective oral hygiene — daily brushing and flossing to removing plaque, a thin film of food remnant on teeth that's a feeding ground for bacteria, along with regular dental visits for more thorough cleaning and examination. This regular regimen should begin in infancy when teeth first appear in the mouth. For children especially, further prevention measures in the form of sealants or topical fluoride applications performed in the dentist office can provide added protection for those at higher risk.
You can also help your preventive measures by limiting sugar or other carbohydrates in your family's diet, and eating more fresh vegetables, fruit and dairy products, especially as snacks. Doing so reduces food sources for bacteria, which will lower their multiplication and subsequently the amount of acid produced.
In this day and age, tooth decay isn't a given. Keeping it at bay, though, requires a personal commitment to effective hygiene, lifestyle choices and regular dental care. Doing these things will help ensure you and your family's teeth remain free from this all too common disease.
If you would like more information on preventing and treating tooth decay, please contact us or schedule an appointment for a consultation. You can also learn more about this topic by reading the Dear Doctor magazine article "Tooth Decay."
By Marc Baker, DMD
November 24, 2018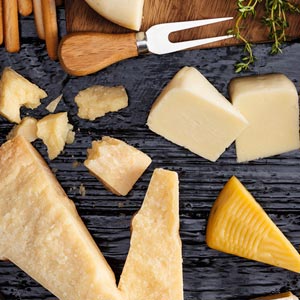 What you eat (and how often you eat it) is a major factor in the ongoing battle to prevent tooth decay. High levels of sugar or similar carbohydrates in your diet could encourage the growth of bacteria that cause tooth decay. Constantly sipping on acidic beverages like sodas or sports drinks can lead to enamel erosion.
You may be well aware of the kinds of foods that contribute to tooth decay. But did you know some foods can actually protect us from this damaging disease? Here are 4 kinds of foods believed to inhibit tooth decay.
Cheese. This food formed from milk is rich in calcium and has a stimulating effect on saliva. By eating a little cheese after a sugary snack, the increase in saliva can help neutralize the acid produced by the bacteria feeding on the sugar; the added calcium will also strengthen tooth enamel.
Fibrous plant foods. Beans, peanuts and leafy vegetables are rich in fiber and many require vigorous chewing. This in turn stimulates saliva flow, which as previously noted helps to neutralize high levels of acid.
Black and green teas. Beverages brewed from these plants are rich in polyphenols and flavonoids, providing an antioxidant effect on cells. Black tea also contains fluoride, which helps strengthen tooth enamel.
Chocolate. There's some evidence that cocoa (from which chocolate is derived) may have some properties that inhibit tooth decay. But there is a catch — this evidence is based on unrefined cocoa, without the addition of any sugar. The high levels of sugar in processed chocolate negate this effect. Sorry chocolate lovers!
Of course, any of these and similar foods (like cow's milk) should be considered complements to a comprehensive prevention approach that includes daily oral hygiene, limits on sugar and acidic food consumption and regular dental cleanings and checkups.
If you would like more information on preventing tooth decay, please contact us or schedule an appointment for a consultation. You can also learn more about this topic by reading the Dear Doctor magazine article "Nutrition & Oral Health."
By Marc Baker, DMD
July 27, 2018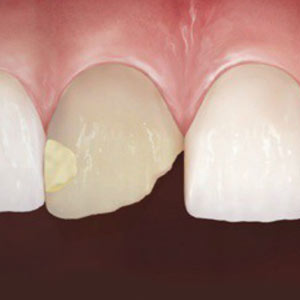 We've been treating one of your decay-prone teeth for some time with one filling after another. Each incident required a little more removal of decayed tooth material until now there isn't enough structure to support another filling.
We could remove the tooth and replace it with a bridge or a dental implant, both viable restoration options. But keeping the tooth if possible would be more beneficial in the long-run for your gums, bone and remaining teeth. If it still has a healthy and stable root, it's possible to permanently cover or "cap" the tooth with a life-like crown.
Crowns have been used for decades: the first were mainly composed of metal like gold or silver and later dental porcelain, a ceramic material that could be molded, shaped and oven-fired to resemble a real tooth. The earliest porcelains, though, were brittle, so a hybrid with a metal interior for strength and a fused exterior porcelain layer for appearance came into prominence.
Today, advances in materials have led to all-porcelain crowns strong enough to withstand biting forces. While the metal-porcelain hybrid still account for about 40% of crowns installed annually, the all-porcelain types are steadily growing in popularity.
Regardless of the type, though, the process for fitting any crown is relatively the same. The first step is to reshape the affected tooth so that the future crown will fit over it, followed by an impression mold of the tooth a dental technician will use to form a custom crown. Once the new crown has been prepared, we then permanently bond it to the tooth.
With a crown, you'll be able to enjoy normal function and have a tooth that looks as healthy and normal as its neighbors. Be aware, though, that your underlying tooth is still subject to decay — so diligent, daily hygiene and regular dental visits are a must. With proper care your newly crowned tooth can continue to serve you and your smile for many years to come.
If you would like more information on dental restoration options, please contact us or schedule an appointment for a consultation. You can also learn more about this topic by reading the Dear Doctor magazine article "Crowns & Bridgework."